July 31, 2019
Color War's Final Night
By Pamela Nestor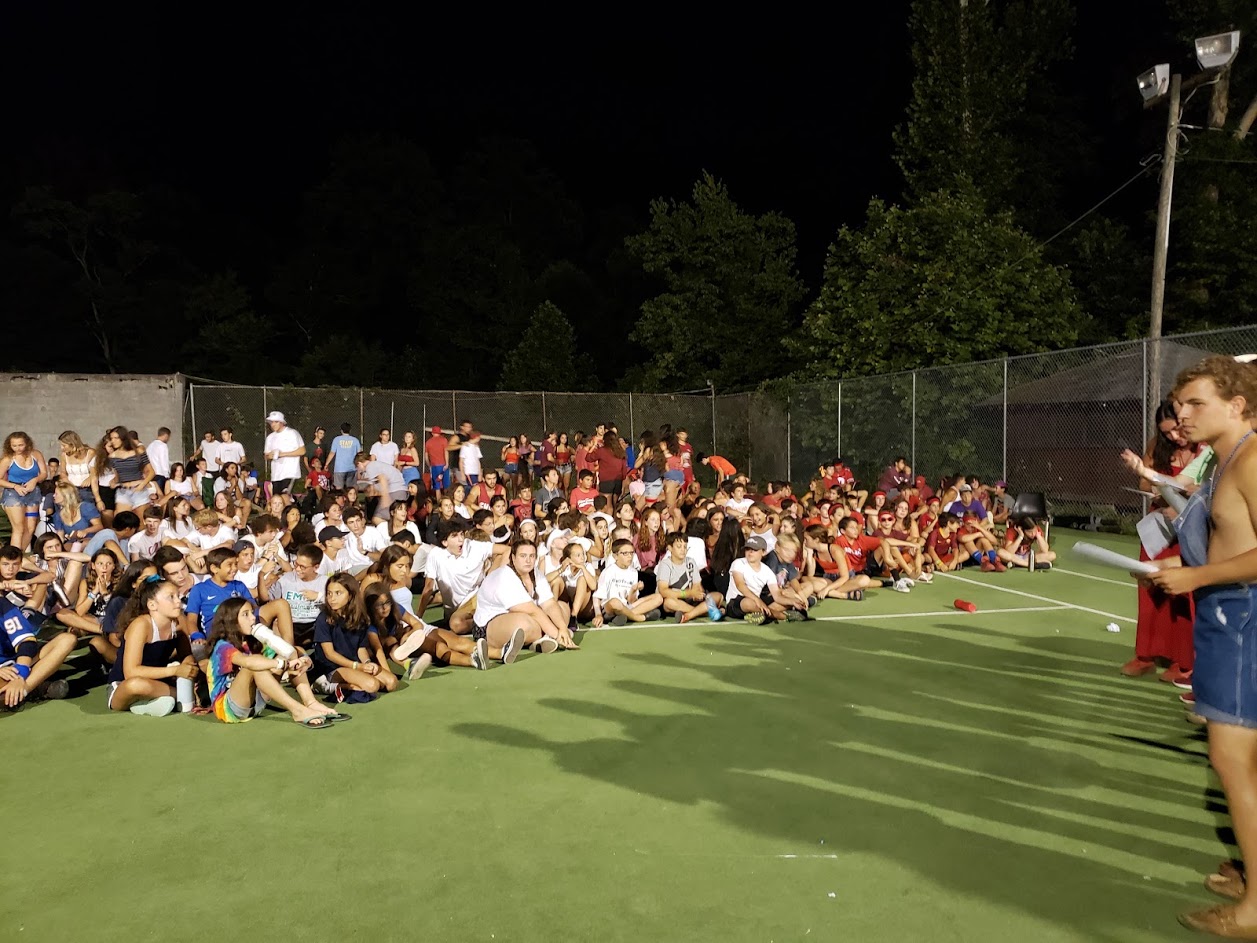 We slept in a bit after last night's activities, then ate pancakes with syrup, cereal, and fresh fruit for breakfast. Afterwards, we all met with our teams. Halutzim and Teens headed down to the lake for Battle Royale while Sabra and Kineret campers went to the Gazebo for Skittles.
Battle Royale was intense! Teams gathered by their firepits and balloons. SITs swam and brought back the first round of firewood, but it was up to the rest of the team to get tools for their fires. They completed tasks for tickets which could buy cardboard, toilet paper, sticks, lighters, and fans to aid in fire-building. Red popped their balloons first, followed by Green. Campers did push-ups, said tongue twisters, and more for tickets! The White team was the first to pop all their balloons and burn through their rope!
Then it was up to the flagpole! We had a mini dance party before each team's captains climbed the flagpole and blew their whistles. We went to the Dining Hall for a silent lunch of macaroni and cheese, salad bar, and baked potato bar, with sour cream, butter, and cheese! Then, we had another team meeting before tug of war finals!
We gathered by the barn for the final tugs of Color War. Teams sent their strongest competitora to the ropes. They got low and pulled for the win! We cooled off with free swim before heading to the pavilion for a cookout! We ate burgers, hot dogs, pasta salad, watermelon, and more!
For Final Night we met at the tennis courts. We watched each team perform their dances, instrumentals, final cheers, and songs! Artists also presented the plaques to the team captains; they were incredible! Illustrations included the team's cartoon representation: Patrick, Aqua Man, Ariel, and Dory. Team captains read verses of a poem, then it was time to announce the winner of the 2019 Trip 2 Maccabi Color War…
THE RED TEAM