July 23, 2019
Halutzim & Teens: Mountain Biking and Golf
By Pamela Nestor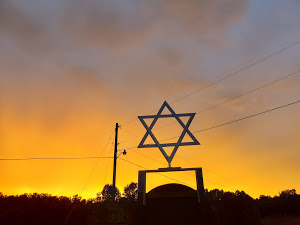 Halutzim and teens have been spending some time every week learning new sports. Groups leave camp after breakfast and spend the morning mountain biking or golfing!
Last week, they headed to Mountaineer Golf Course in Morgantown after eating breakfast. Each time they go, they choose to practice at the driving range or play 9 holes. This particular trip, led by Bradley Lewis, they chose to play 9 holes. Teen 1 camper Adi Schreiber said they spend their time teaching and giving each other pointers.  She said, "Honestly, the worse you are at it, the funner it is to play." She described how one golfer hit their ball into the water twice, but he laughed it off and tried again. After they finished all 9 holes together, they went out for dinner!
Mountain biking, led by Jack Briant, takes groups of 5 or 6 campers to White Park. The course provides rocky terrain that attracts frequent mountain bikers. They ride for an hour and a half, hitting bumps and jumps! They have learned how to jump correctly and even do some tricks!
Adi said, "It was fun to hang out as a group outside of EKC!" Sounds like they had a wonderful time!