July 24, 2019
It's Israel Day!
By Pamela Nestor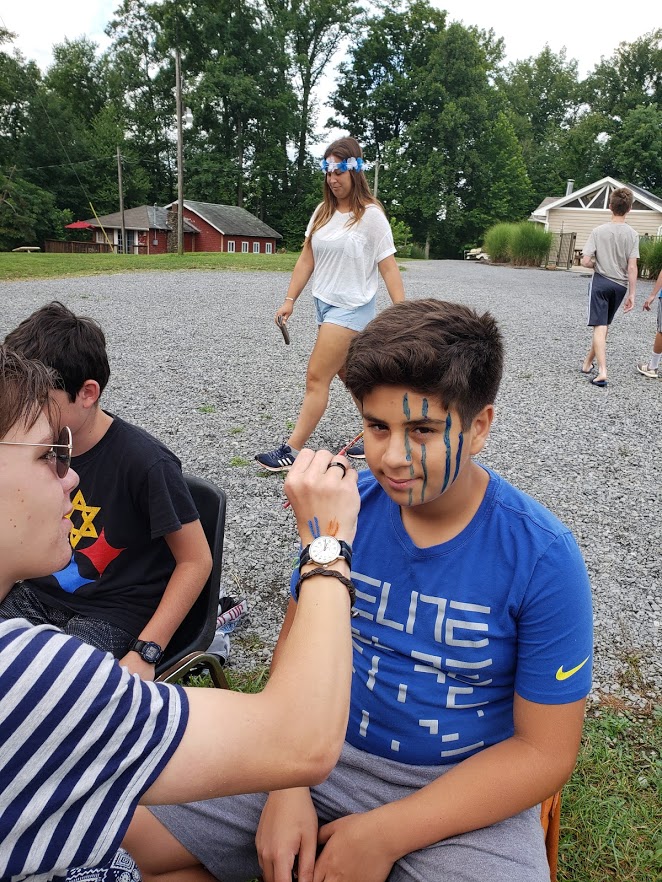 Yesterday was Israel Day! We got started right after a breakfast of french toast cereal, and fresh fruit. Then, we headed to the upper ball fields for Israel Day activities!
Near the stables, campers participated in a scavenger hunt! They found clues, letters written in Hebrew, and formed a word with them. At the firepit, Teens cooked their own pitas over the fire and topped them with Nutella, tzatziki sauce, and other herbs and spices. Near the tennis courts, arts & crafts staff painted faces with stripes, flags, and Stars of David, all in blue and white! Here, campers also signed today's flag.  )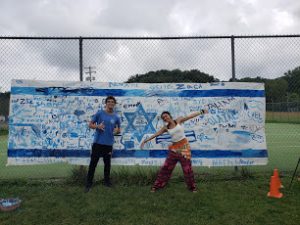 There was a relay beside the pool. Campers filled a cup, walked a distance, then poured the water into their team's buckets- all with no hands! On the other side of the pool, campers learned to work with Israeli currency! They bartered their money at a 'shuk' for things like an Israeli flag, translation of a phrase into Hebrew, or extra nosh! We also had fun doing Israeli dancing at the pavilion!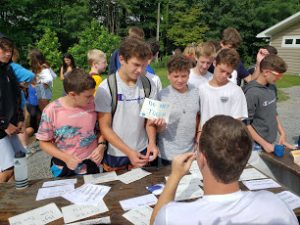 Teens took part in a program where both American and Israeli campers engaged in a meaningful discussion about the Israeli/Palestinian conflict.  They were given a series of statements in which they had to say whether they agreed and disagreed and were given the opportunity to share more about their opinions.  It was particularly interesting to hear how many similar and different opinions the American and Israeli teens each have, and recognizing what different backgrounds they come from.
We wrapped up Israel day with the SIT's performing a dance for us at the flagpole, then headed to lunch!  We ate cheese quesadillas with salsa and guacamole, salad bar, and baked potatoes with sour cream, cheese, and salsa! Then it was back to normally scheduled activities. Halutzim campers continued painting their pottery in ceramics class, including faces, plates, and a pickle!  Make Your Mark continued in arts and crafts, with teen girls painting barrel trashcans and the patio outside the art shed.
In the camper kitchen, teen girls cut onions, shredded cheese, and started gravy on the stove! Next door, teen boys worked on their flexibility with yoga poses. Up in the ballfields, halutzim girls learned to gallop on horses! They ran from the pools to the stables.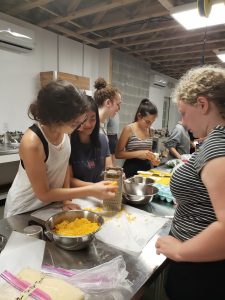 Dinner was sloppy joes, pasta, corn, salad bar, and falafel bar with pita and hummus! This week teens will be travelling to Washington DC and Hershey Park. Our teen Tikkun Olam projects are underway this week and Kineret campers have one more overnight camping trip tonight too!