July 29, 2019
Maccabi Color War Theme
By Andrew Horvitz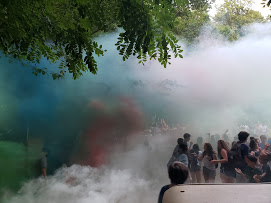 Since Emma Kaufmann Camp's inception, the cove at Cheat Lake has been a favorite for campers and staff alike. Nothing makes a cabin more excited than seeing a Lake activity on their schedule, and there's no better place for a sikkum than Sunshine Point. This offseason, a few improvements were made to one of the best places in camp, but Aaron has one more step in his master plan. Taking the Lake to new depths is not only the goal, but the expectation. However, this is not possible without an aquatic ambassador to be the face of the Cove and lead this furious charge. EKC's leadership has received over one-thousand requests from famous fish and friends around the globe, and they've narrowed it down to the best four options:
Aquaman: Arthur Curry, better known as Aquaman, is the son of a lighthouse keeper and an Atlantean queen, and he is the bridge between the surface world and the sea. He is the King of the Seven Seas, and the monarch of the undersea realm of Atlantis. Aquaman is one of the most powerful superheroes in the world, and a founding member of the Justice League. Move over Daniel Holc because with Aquaman's strength and power, EKC will now "Go Ham with Aquaman".  With his trident in hand, Aquaman's ability to command his kingdom is a good sign that he can handle the chaos of Lake Livin'. Recently portrayed on the big screen by Jason Mamoa and more notably by Vinny Chase, Aquaman has the star power to promote Cheat Lake worldwide, both above and below the surface.
Patrick Star: The friendliest creature in Bikini Bottom is coming to EKC. Though he is sometimes overshadowed by his best friend Spongebob Squarepants, you shouldn't sleep on Patrick Star despite the fact that he can often be found sleeping himself. Patrick is a man of the people, and he is unafraid of getting down and dirty to get the job done. However, just by raising a pinky, he knows how to fit in with the fancier crowd too. Under his rock, Patrick is always thinking of new plans and schemes to help out his Krusty Krew in Bikini Bottom. He's even willing to give up Krabby Patty's for Kim's kosher burgers and dogs. He is unfailingly enthusiastic, touchingly loyal, undeterred by failure, and exceedingly goofy, basically everything we love at EKC, which is why he'd make the perfect Lake Ambassador.
Ariel: This little mermaid is the youngest of King Triton and Queen Athena's seven daughters. She is often seen in the company of Flounder, her best friend, and her father's royal advisor Sebastian. She is independent, strong willed, and caring to others no matter what their circumstances. She is owed a debt from both sea-swimmers and land-lubbers after she saved them from the sea-witch Ursula. Ariel could help out in other areas of camp as well. She'd make a great lifeguard, and her beautiful voice would be a huge asset to the camp play, but the Cove is where her heart lies. Ariel has longed to be a part of the human world, but does not want to leave her friends below the surface behind. At EKC, she won't have to choose between the two. The Little Mermaid is certainly ready for this Big Responsibility.
Dory: Throughout the vast ocean, you will not find a fish more hospitable, more friendly, and more sociable than Dory. She would love to chat with you all day and tell you her life story… but she can't. Dory suffers from short-term memory loss. Dory is the aquatic Good Samaritan who offers to help Marlin on his journey to find his son, Nemo. Despite her spacy personality and short attention span, Dory has shown to be very intelligent. She can read English, speak whale, and is working on her Hebrew… allowing her to connect with all species in her quest to bring notoriety to our great lake. She has shown that she is willing to risk her life for a child in need, just don't expect her to remember that child's name. Dory is a tireless worker, who will "just keep swimming" until the job is done. Dory is taking the EAC (East Australian Current) from P Sherman 42 Wallaby Way Sydney all the way to the 26508, and she wants nothing more than to be the newest member of the EKC family.
All four of these sea creatures would do an incredible job of promoting EKC's Cheat Lake. Jacob Halbert and Sean Donovan may have fancy new docks and tubes, but they cannot compete with the job that Patrick, Ariel, Dory or Aquaman could do in bringing excitement and exposure to the Cove. Such a decision cannot be taken lightly, and none of EKC's leaders feel comfortable making this decision on their own.  There is only one way to make a decision this important. Aaron, Rachael, Brooks, and Dylan must turn to EKC's campers and staff to come together for camp's most time-honored tradition…….
MACCABI COLOR WAR!!!