August 4, 2019
Our Last Sunday
By Pamela Nestor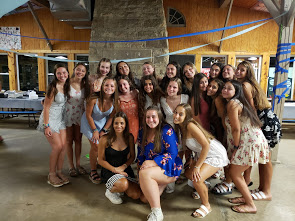 We woke up and had a delicious breakfast of cinnamon rolls, fresh fruit, and yogurt with granola and berries this bright Saturday morning. Then we had our Shabbat services in the amphitheater followed by our last Shabbat concert of the summer.
For lunch we had cold cut sandwiches and pasta salad. Afterwards, we cooled off in the pools with free swim and enjoyed games in the ballfields during open upper ball fields. First experience campers played a few games of tennis at the courts, then tie-dyed their first shirts! Teens met in the arts and crafts shed to put the finishing touches on their plaques for tomorrow's teen challenge final night!
We ate baked ziti, garlic knots, stuffed shells, and the salad bar for dinner! When we were finished eating, we went to the playhouse to watch the Variety Show.  Their hard work and practice really paid off; their performances were incredible! They sand various broad way and show tunes and had everyone singing.  The show was followed by a chugim concert: the Jew-bitz and Chimichanga Dangerous. The SITs went to the dining hall for their formal, and the teens had their final dance competitions.
Tomorrow is quite the busy day with TC final night, the teen pool party, and the SIT induction ceremony.  Everyone will participate in their final chugim of the summer and our league championship games will take place.  We will also have our staff final banquet where we will present the REMarkable staff of the year award.  Our summer isn't over yet, and we're going to savor every last moment together!