History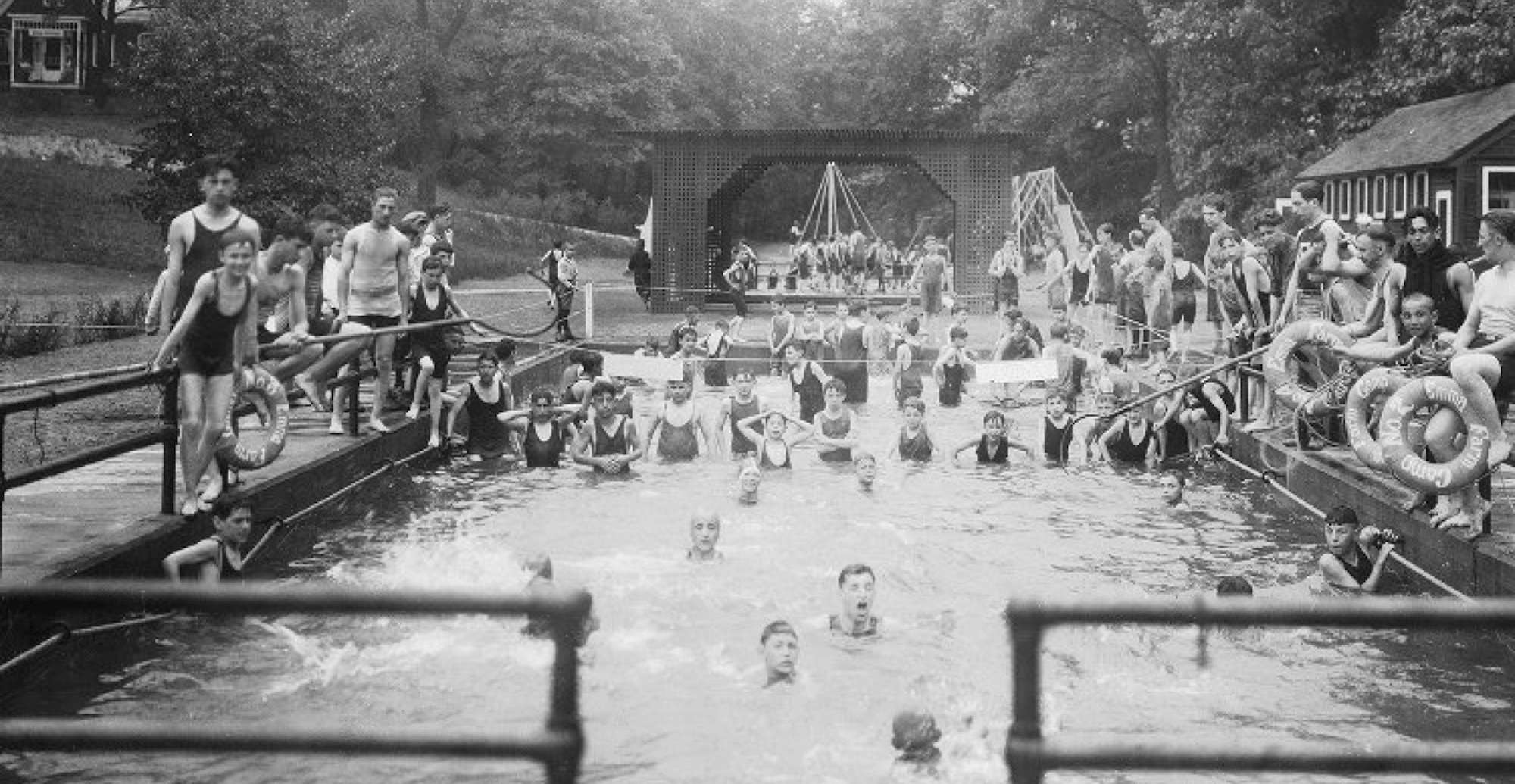 One of the earliest and most enduring programs of the Jewish Community Center of Greater Pittsburgh and its predecessor, the Irene Kaufmann Settlement, is overnight camping.
Organized on May 19, 1908, the Emma Farm Association (EFA) was founded by 33 community-minded citizens prompted by the generosity of Isaac and Morris Kaufmann in memory of his Isaac's first wife, Emma.   Originally located on 65 acres in Harmarville, the EFA provided children and adults with an opportunity for open-air recreation and a facility for convalescents to regain their strength after hospitalizations.  The Farm School Department worked with problem boys and the Fresh Air Camp Department to ensure that mothers and their children experienced summer vacations away from the city.  While the program was built as non-sectarian, kosher dietary laws were observed to maximize community participation.  In 1916 the Irene Kaufmann Settlement assumed the management of Emma Farm and began to charge a small fee of $2 for a 12 day stay based on ability to pay.
In 1921, the EFA purchased a site on Connoquenessing Creek near Harmony, PA for $150,000 and relocated shortly afterwards.  Eight cottages were built, equipped with electricity and indoor plumbing.  A dining hall, administration building, and hospital were added as well. Facilities were available for hiking, ball games, track, tennis and swimming.  Belle C. Meyers, Isaac Kaufmann's second wife, donated a recreation center with a seating capacity of 600, with a stage, movie projection equipment, a Victrola, and a piano. The original "Old Barn" served as the EFA library.
From 1922 to 1942, Emma Farm held four separate two week sessions for boys and girls, with 200 campers accepted for each session.   A separate mothers' trip to camp was eliminated in 1942.   During these years, most counselors were volunteers and the recreational activities focused on health benefits and weight-gain.    In 1948, the EFA instituted a sliding scale fee system so that people using services would pay fees to  the extent of their ability.  That year, the program fee for two weeks of camp was between $8 – $58.50 based on family income.
In 1971, the JCC purchased 200-acre Camp Lynnwood on Cheat Lake near Morgantown, West Virginia for $538,500 and Emma Kaufmann Camp (EKC) opened for the 1972 season.  626 campers attended EKC that first year, a 31% increase in campers from the final year in Harmony.   EKC has thrived in its years on Cheat Lake, with over 800 campers ages 7-16 building community, sharing friendships, and creating lasting memories.
EKC is infused with rich traditions. It's a place where families send their children year after year and generation after generation; and it's a place where each camper, new and returning, has an opportunity to feel the legacy of our past and experience the vitality of camping today.