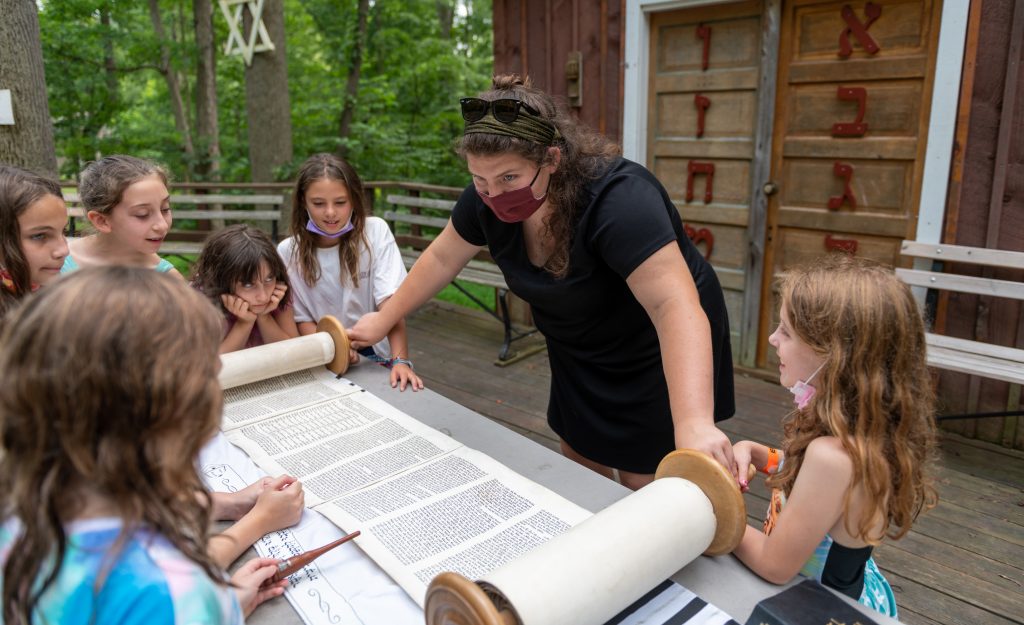 The Jewish program at EKC is designed to create a positive spiritual and culture connection to Judaism for all of our campers and staff, while being rooted in ritual experiences – like Shabbat and Havdalah. Camp creates a bubble for campers, staff, and families – a physical separation from the outside world and an opportunity to create a distinct environment of Jewish time and space while supporting each individual's journey through self-discovery and personal growth. EKC already has an established and rich culture for individuals to grow, learn, and "move up" within the camp community.


We are excited and proud to be the first overnight Camp to welcome the Sheva™ initiative into our program and introduce seven Jewish lenses that will articulate our approach to the work we do at Camp. They inspire as much as they inform. Ideally, they will manifest daily at Camp in the ways in which we build our program and live within our Camp bubble. Within Sheva™ are seven Jewish lenses that will guide us on how focus our everyday living at Camp. Each lens will be incorporated into the EKC environment. These lenses are…


Masa (Journey), for us at EKC is about how all our individual journeys come together to create one large journey that we're all on.

Tzelem Elohim (Divine Image) is about accepting the authentic self of everyone in our camp community and create a space for them to be celebrated for who they are.

B'rit (Covenant) is our third lens and for us at EKC brings a perspective of community and belonging, using the social contracts of community as something that bonds us in everything we do.
K'dushah (Holiness) is truly about creating the separation of everyday moments from the ones that take us into a special and intentional space.


Hit'orerut (Awakening) supports appreciation and awe for the moments we are taking part in and the gratitude we find in each day.


D'rash (Interpretation) will be modeled to find new ways of doing what we do, try to understand other people's perspectives, and learn from one another.


Tikkun Olam (Repairing the World) supports a camp community that is responsible for bettering the world around us.


Each of these lenses builds off the other, and will connect seamlessly into the values, JTMs (Jewish Teachable Moments), and unique Jewish experiences we provide at EKC.


The Jewish experience at EKC is one that ushers in a feeling for our campers and staff that they are connected to one another, to past generations, to those yet to come and to Jews around the world in Israel and beyond.  They witness role models living the values that matter most in being a mensch, the quintessential human being who acts based on concern for others.  They grow as confident and proud members of the Jewish community ready to apply their EKC summer community experience to their year-round experiences.  Throughout it all, they have fun, the kind of fun that makes a difference deep down inside.


Our Jewish values in the Summer include:
JOY – Simchah – A feeling of great happiness.
SOCIAL RESPONSIBILITY – Achrayut – A moral belief where we as individuals, have a responsibility toward the larger society.
COURAGE – Ometz lev – The ability to do something that frightens one.
LEADERSHIP – Manhigut – A practical skill regarding the ability of an individual to "lead" or guide other individuals, teams, or entire organizations.
PATIENCE – Savlanut – The capacity to accept or tolerate delay, trouble, or suffering without getting angry or upset.
KINDNESS – Chesed – The quality of being friendly, generous, and considerate.
CURIOSITY – Sakranut – A strong desire to know or learn something.


We use these values to help campers and staff become the best versions of themselves today and in the future.  These values guide our interactions daily as we strive to live more intentionally with each other.


Our Jewish Educator coordinates Jewish life throughout the summer helping staff and campers to identify Jewish Teachable Moments (JTM) when our values are elevated through action and reflective conversation.  Every day, every staff member guides our community in words of gratitude for the food we eat, values-based interactions in every corner of camp, Shehechiyanu Moments that celebrate individual and collective successes, and end of day cabin based sikkumim that help us all reflect on the connections, the growth, the values and the fun we experienced that day.


Something special happens on Friday afternoons as camp slows down from its weekday hussle and bussle.  Everyone turns to the three characteristics that have made Shabbat a unique weekly celebration through the generations of our people and the generations at camp.


Intentional Sacred Time – Kedushah – We make time for Shabbat and its special activities.
Rest – Menuchah – We pause to refresh as individuals and as a community.
Joy – Oneg – We enjoy each other through special food, special settings and special activities.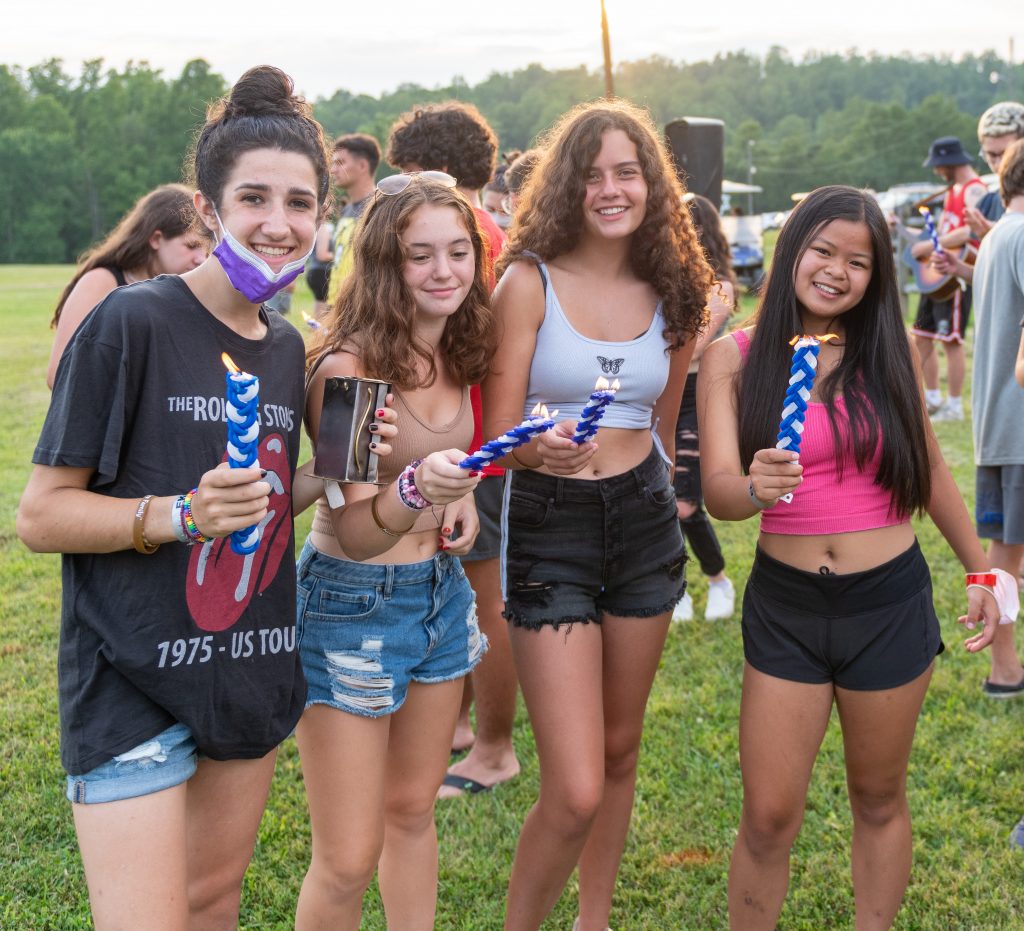 Our Jewish Educator coordinates with staff and campers to fill Shabbat with prayer, song and ritual on Friday night, Saturday morning and Saturday evening.  Dressed in white, our community enters a dining room that has been set with tablecloths and filled with the aromas of Shabbat classics and the sounds of beloved music.  Programming on Shabbat offers opportunities to reflect on the big stories of our people, to recharge our batteries and to enthusiastically embrace the journey to become better versions of ourselves.


Rabbi Israel Salanter (19th century) taught that the Maharal of Prague (Rabbi Yehudah Loeb, 16th century) created a golem, a mythical creature that could do wonders but never really existed, and this was a great wonder. But how much more wonderful is it to inspire a member of the EKC family to become a mensch, who can do wonders and actually does really exist in our world!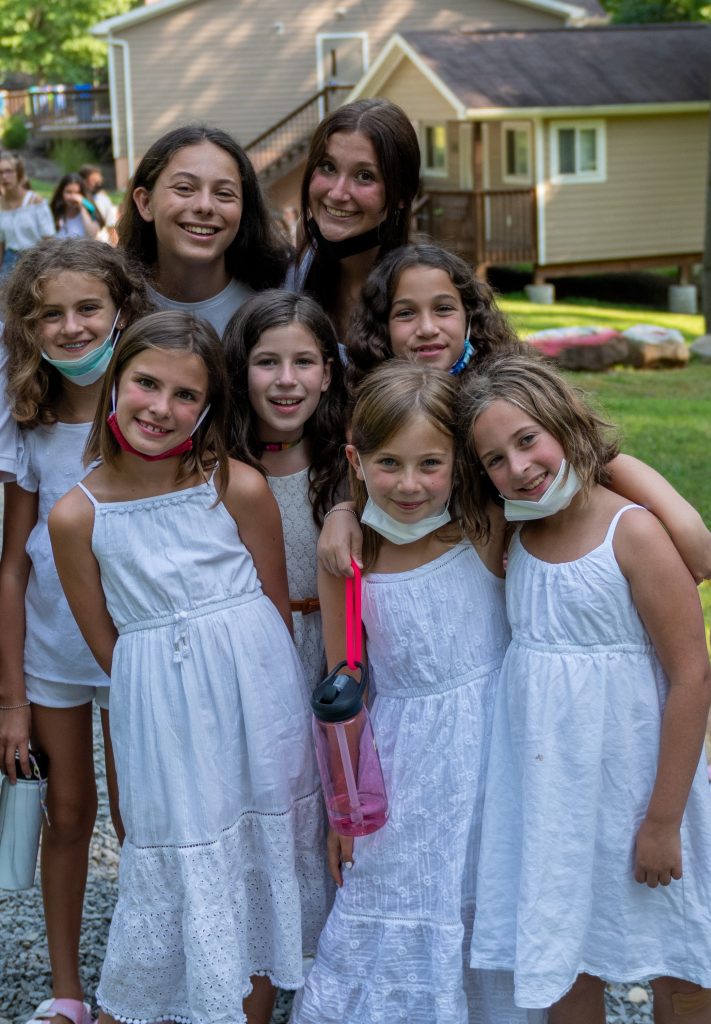 This is EKC: Connections – Values – Growth – Fun