June 10, 2018
What's New?
By Rachael Speck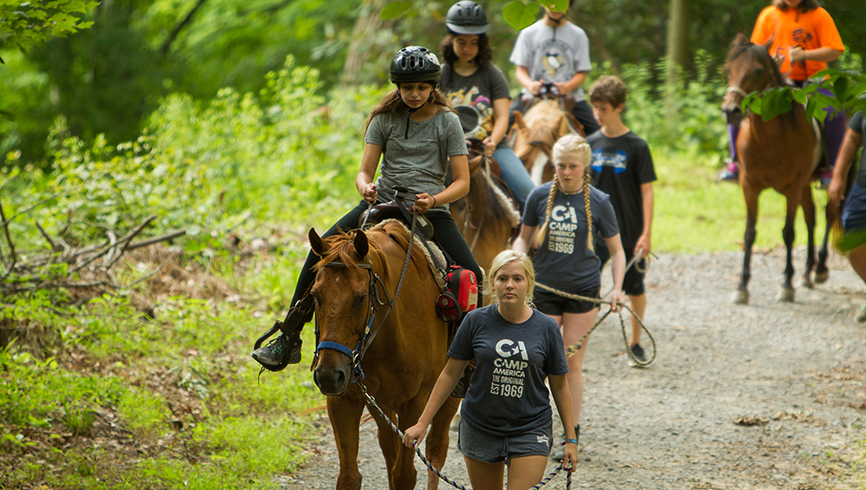 "Hey, Rachael. What's new at camp this year?" It's a question I get every year.   At the end of each summer, our team sits around the table and talks about what we want to change for next year.  By November, we have it all figured out, or so we think.  Then there is that really awesome program opportunity that comes along in April or May and we just have to fit it in.
You want to know what's really getting me going right now?  I am excited for "the new" in a way that I haven't been excited in a long time.  "The new" at camp this summer isn't just about new activities or facilities.  It's also about changing the way we do things to better meet the needs of our campers, staff, parents and alumni.   While some of "the new'  takes a "less is more" approach, all of "the new" focuses on quality – quality of staff, quality of communication, quality of programming, quality of caring for children.  Not only is "the new" this summer designed to make things easier for me, but most importantly it will make our parents, campers and staff happier.
So let me share with you a little bit about what's new, from the insider's perspective.
The number one thing I am most excited about is our new daily schedule!  Campers are going to get more choice in their day.  Not only will they get to choose more of what they want to do, but they will also get to choose who they do it with.  It's going to allow them to do activities with other campers and spend time with other kids who have the same interests and passions.  They will get to do more of their favorite activities more often, and less of the activities they don't want to do.  A camper can now play in leagues and participate in 2 chugim per week.  This may not sound like a big deal to those who are reading this, but go ask your camper and I can almost guarantee they will say "No way?!" Tell your camper that they will have chugim twice a day and get to select new chugim every week and you'll likely hear, "Are you kidding me?!"  There are so many benefits to this new activity schedule.  More choice for kids and more of them doing the activities they actually want to do equals happier campers.  Happier campers means an easier job for staff, which means happier staff.  Happy staff means a happy me!
We are also changing the way we take care of campers and the way we communicate with parents.  We are currently in head staff training week, where I have directly trained all of our unit directors and unit leaders.  These are the supervisors on the frontlines with our campers and staff.  My message to them is simple. "We need to take better care of our campers and staff."   It's not that we didn't take care of them in the past; it's just that we weren't as thorough as we could have been.  We have expanded our staffing complement to include two camper care specialists, whose sole job is to check on kids, manage camper issues and communicate with parents.  We've also added a staff engagement coordinator whose primary focus is to plan activities for the staff, boost staff morale and keep staff happy.  As they say in the camping industry, "Happy staff = happy campers," and it sure feels good to know that EKC has never been as well prepared to keep our campers and staff happy.
Let's face it, sometimes our kids aren't so good at telling us what is going on in their lives or what they are doing at school or camp or with their friends.   We now have a communications specialist who is going to help our parents out with that! Someday my son is going to be old enough to go to camp.  He is only 5 months old now, but I already know that I am going to want to know what he is up to and who he is hanging out with.  We now have a brand new photo application system called WALDO that will allow you to access photos of your child through an app on your smartphone.  The best part is that it's all done through facial recognition, so every time your child is tagged in a photo you will receive a notification on your phone.  No more having to look through hundreds of pictures every night to find your child.   Oh and did I mention if you aren't following us on Facebook and Instagram you should be.  I love being able to tell the story of camp on social media.  You may have heard about a little something called the Tush Push. (I almost made it through this post without mentioning the BRAND NEW AMPHITHEATER BENCHES!!! J)
The menu.  OK, OK.  Yes, I am excited about having berries and more variety of fruit.  The additional protein options are great too, especially since I always worry whether or not I am eating enough protein.   I tried the sautéed veggies for the first time last week and they were delish! But the real game changer?  THE LETTUCE!  I move down to camp in the middle of May and don't move back to Pittsburgh until late August.  I can't indulge in mac n 'cheese and spaghetti like the campers can.  I eat the same salad almost every day for 3 months.  Iceberg lettuce got real old real fast and had little nutritional value.  Adding spring mix and romaine are a game changer.  For me, it's the little things.
I haven't even mentioned our brand new health and wellness initiative.  Spartan Fitness will engage Sabra and Kineret campers (2nd-6th grade) in various workouts on an obstacle course throughout camp.  Each of these workouts and obstacles has a life lesson attached to it, such as respect, stick-to-itiveness, sportsmanship and showing kindness.   If you know me then you know how much I love fitness and telling anyone who will listen about the value of camp and the skills it teaches to prepare kids for life.  Spartan Fitness marries those two things.  Call me crazy, but this is the stuff that gets me goin'!!!
But wait, there's more!!! Teens will have an opportunity to do Shabbat in a whole new way. For one Shabbat morning each session, our teens will each be able to choose a "track" based on their interests and experience Shabbat through sports, yoga and meditation, nature or cooking.  A foam party for Sabra and Kineret.  A new, culminating trip for our oldest campers to Washington DC and Hershey Park.  Our new golf program, "EKC Hits the Links", in which campers will receive instruction at camp and then put their skills to the test at a local course in Morgantown.  Disc Golf, 9 square in the Air, our expanded cooking program and new inflatables in the lake.  And you wonder why I'm excited?!  How could you not be?!
Is it the new activities?  The new schedule?  The new lettuce?  I don't know, but it's new, it's different, and it sure feels good.   It's an exciting time to be in this game, and the feeling of change and excitement is in the air. It's in me. I can't wait to transfer that feeling to general staff when they arrive at camp tomorrow and over the course of the next week.
Until then…
Rachael