July 29, 2018
An Exciting Week 2!
By Sam Bloom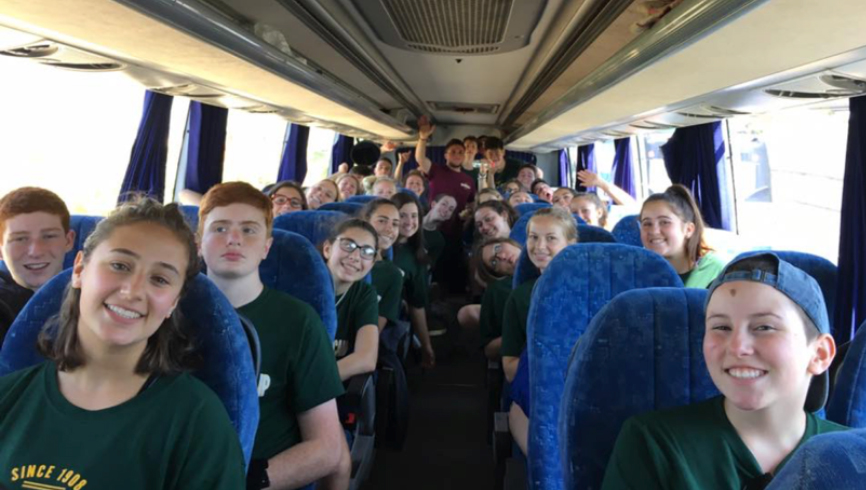 When I was a camper, one of the most exciting parts of coming back to camp every summer was getting to do a new activity whenever I moved up into a new unit.  When I was in Kineret, I couldn't wait to get to Halutzim to go roller skating at Swaney's.  When I was in my first year in teens, I couldn't wait to be a Teen 2 so I could participate in the Big Brother Big Sister program.
On Thursday night, our Teen 2s returned from Washington DC.  On the trip, they visited the US Holocaust Memorial.  We prepared them before they left by giving them question cards.  These cards gave them ideas for things to look for and think about as they moved through the exhibition.  They also had a conversation about previous experiences with the Holocaust Museum, what they had already learned at school, and their personal connections to survivors.  The night after their visit, the teens did a Sikkum (end-of-the-day wrap up activity) with their quads.  They talked about what parts of the exhibition they found most powerful, and what the significance is of learning about the Holocaust and how it connects to the world today.
This trip is brand new for the teens this year.  It was designed to be a culminating experience for teens in their last year as a camper, and to serve as a prelude to their SIT Israel Leadership Experience.  This trip was the perfect "new and different" activity to add to the teen experience.  It was the perfect mix of fun (they also went to Six Flags!) and meaningful.  It will have a lasting impact amongst all their camp memories.  Over the past few years, not only have we tried to make sure we have new activities every year, but we've tried to be more intentional about our program design.
What do I mean by intentional?  At EKC, we take a progressive approach to programming.   Offering something new, different and age appropriate within each unit each summer.  This is what keeps kids wanting to come back to camp.  This is what keeps camp exciting.  Camp is this interesting mix of being so rooted in tradition that no one ever wants it to change, yet no one likes to do the same thing every day.  That would be boring, and boring doesn't exist at EKC!
We had a great second week of camp full of exciting programs in each unit.  Kineret and Halutzim got the opportunity to participate in Robotics.  Campers got to build their own robots out of recyclable materials and then computer program them to move.  You may be thinking, "What?!  Computers at camp?!"  Yep (only when used for the right purpose)!  Because at EKC, we offer something for everybody.  Because every kid needs camp.   Sabras and Teens went on their Big Brother Big Sister Day trip to Chestnut Ridge where they swam , played Capture the Flag, hiked and had a picnic lunch.  Our SIT's (staff-in-training) are on their second rotation in cabins and specialty areas interacting, teaching and learning how to be staff.  Five of them are over halfway through their lifeguard training, so that by the end of the summer they will be certified lifeguards and ready to work at the pool or lake next summer.  Kineret baked challah on Friday morning to enjoy at Shabbat!
As we head into Week 3, we have lots to look forward to.  Kineret, Halutzim and Teens start new chugim today.  This week's offerings include Israeli cooking, fishing, fitness, basketball, wake boarding, waterskiing, art and music room.  Have I told you about our new music room?  This is a brand new space used for singing and camp band (don't worry, for those of you who know, we still use the gazebo for singing too).  It also has all kinds of cool DJ and recording equipment for campers to be able to create their own music.  Oh, and we have a big surprise program coming this week too.  Some of you might be able to guess.  We will tell you all about it on Wednesday!
Until then…Shavua Tov!
Brooks