November 15, 2019
Celebrating Camp on Wear Your Camp T-Shirt Day
By The JCC Camping Team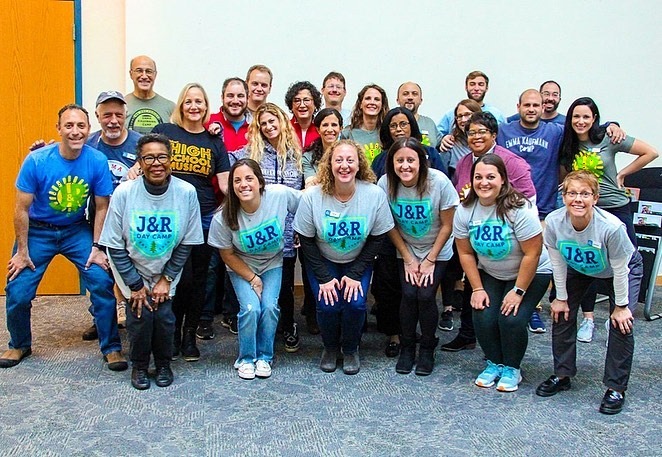 Whether it is winter, spring, summer, or fall, camp professionals are the lucky ones.  We get to eat, sleep and breathe summer camp all year long.  Spending time engaging our campers, parents, staff and community partners is a critical and special part of the work we do.  Whether it's recruiting new campers or staff, posting memories year-round on social media, visiting past and present staff on college campuses, or bringing everyone back together for camp reunions, each of these experiences brings a reminder of the joy that camp brings us.
This week, we were able to spread the joy with a little extra ruach by celebrating "International Wear Your Camp T-shirt Day."  We will look for any reason to celebrate the idea and memory of camp so we decided to turn it into a week-long celebration on social media and at the JCC.  Campers, parents, staff and alumni had a blast posting everything from pictures and videos to shout outs and throwbacks all in celebration of the magic that is camp.  Below are a few pictures from the week.  You can see much more of the fun by checking us out on Facebook and Instagram at J&R Day Camp and Emma Kaufmann Camp.  Social media has revolutionized the way we are able to stay connected to our camp family throughout the year.  We hope you will start following us so you too can see, hear, and feel the magic of camp all year long.
Any time we see our families and staffs join in on celebrating camp, it is a reminder of the important positive impact we are having on the community we serve.  We are giving children formative experiences that stay with them for a lifetime.  We are giving children friendships and memories that are unique in a way only a "camp person" can understand.  We are giving young adults a valuable skill set that will make them desireable employees in a 21st century workforce.   We are giving alumni a feeling of nostalgia that never goes away.   The impact of camp lasts far beyond the summer months.
Wishing you and your families a Shabbat Shalom. 
The JCC Camping Team