July 22, 2018
Sharing That Flagpole Feeling
By Phillip Gelman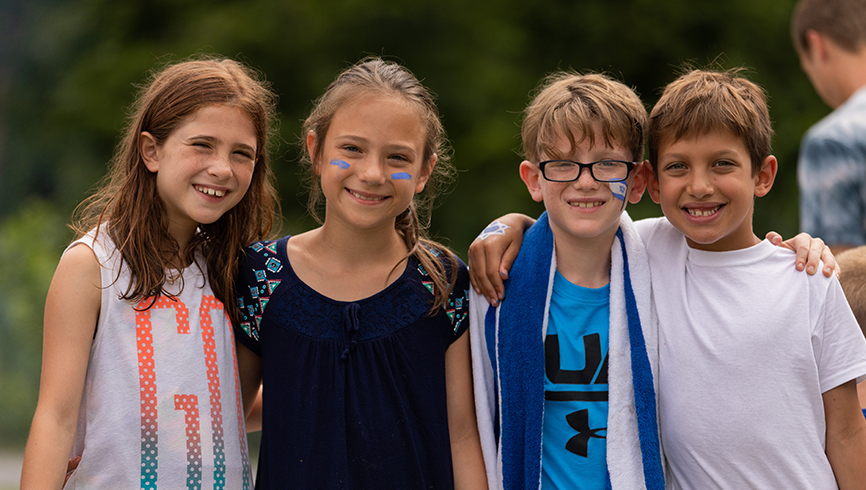 Every morning I have the privilege of leading flagpole.  This is not a responsibility I take lightly.  The vibe of the entire camp day starts at flagpole.  Therefore, I always try to make it funny, interactive and meaningful.  You all may have heard many goofy stories and random games that go on at flagpole.  It's such a great opportunity to get campers and staff ready for the day.  Getting everyone to be a little silly and step out of their comfort zone is what camp is all about, and flagpole is the perfect opportunity to get to demonstrate this.
Some of my favorite flagpole moments so far this summer have been our gameshow "Battle of the Units."  Campers from each unit come up to the flagpole and compete having to complete a task as an entire group.  Competitions have included bobbing for apples, finding gum in powdered sugar, and building a human pyramid.
Something else we do every morning is sing Modeh Ani.  Singing this Jewish song allows us to thank G-d for waking us up and keeping us safe through the night.  We also sing God Bless America and Hatikvah.
The combination of the fun, the goofiness and the singing gets me pumped up and ready for the day.  I love transferring that feeling to our campers and staff.
Speaking of a feeling, we've got a great one in camp right now.  As the program coordinator and staff engagement director, my job affords me the opportunity to jump in with campers and staff at daily activities.   I love to fully immerse myself in camp. A few days ago, I played basketball with a Halutzim girls cabin.  After the game, I got to talking with one of the campers who is from Spain.  She was telling me how much she loves camp and how she wants to come back every year.  She doesn't get to do activities back at home like the blob and rave, horseback riding or Shabbat.  She doesn't get to be around a big group of girls like she does here.  She doesn't get to hang out with so many different types of people.   This conversation got me thinking about all of the unique experiences we get here at camp.  The opportunity to try new activities we may never try anywhere else.  The opportunity to meet people from all over the world.  The opportunity to live with a group of people that turn into our family.    And by the way, we played one-on-one basketball and she beat me!
This past week, our campers and staff had so many great experiences.  We had our first dress-up theme day of the summer: Twin Day!  Teens had a pool party on Wednesday night and Teen Challenge broke!  Teen Challenge is a month long competition with all teen campers.  Teens are split into 4 teams and do sports, relay races, dance marathon, trivia and more.  Kineret had a great time caving and mini-golfing on their day trip to Laurel Caverns on Friday.  Halutzim went roller skating on Wednesday night and each cabin had a theme they dressed up as.  Sabra baked challah on Friday morning as we got ready for our First Shabbat. So many unique experiences and we are only 1 week in!
We always make sure we have great experiences just for our staff too.  We offer staff activities every night in camp.  We do staff activities as a way to keep staff happy and have fun things for them to do with their friends each night.  This is all part of how we keep our staff happy to stay and not glad to leave.  This past week our staff got to have a bonfire with s'mores and singing, play pick-up basketball, bake cookies and play Bingo!
I'll leave you as I leave everyone at the flagpole each morning: Have a great day EKC, and don't forget to smile!
Shavua Tov,
Phil