July 18, 2018
Session 2 Staff Motivation
By Sam Bloom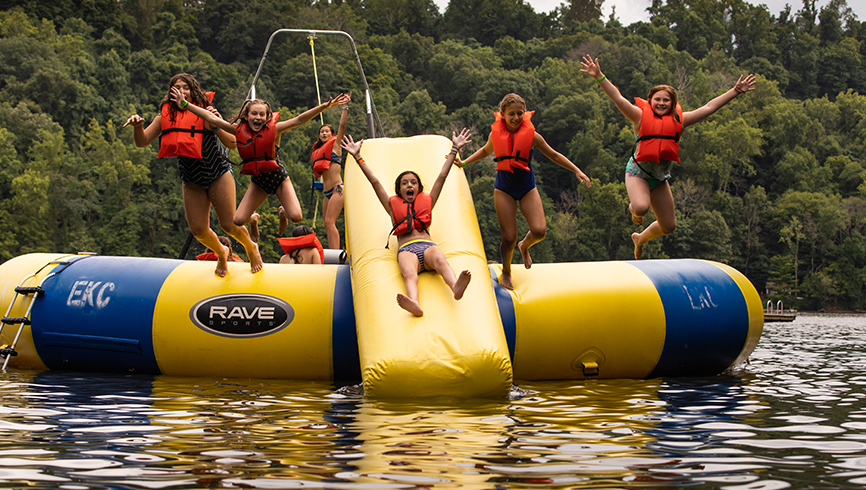 What a great first 3 days of Session 2!  The weather has been absolutely perfect.  This has made for lots of fun in lake, pools, ropes course and more.  Campers started their first chugim this week, Sabra had story time last night and Kineret boys have their under night tonight!
Yesterday, we were privileged to have Steve Maguire, a motivational speaker, come to EKC and spend time with all of our staff and SIT's.  Steve has been to EKC several times in the past, speaking with our staff, training and motivating them.  Camps often talk about the mid-summer-slump.  At EKC, we won't let our staff slump.  So in comes Steve, and boy did he crush it!
And he taught us all a few things:
CHOOSE TO BE EXTRAORDINARY
What does all this have to do with our work with campers this summer?  A lot!
We can create an environment in our bunks and in our specialty areas that excludes superficial chatter about things that don't matter – like how people look and how many points they scored.  We can create an environment in which how much people laugh and how deeply they connect is what's really important.  We can create an environment in which who we dance with and how we dance does not matter, but rather in which everyone feels safe just to dance.
To do any of these things – and the countless others we can create in our ideal environment – requires our commitment to ensuring that campers understand that this summer will be different.  It requires our passion…the kind of passion that sets an example that motivates others, and that encourages our campers to rise above setbacks and challenges and to pursue an extraordinary life.
We can make a difference.  This is our opportunity.  This is our summer.  And we need to choose to make it extraordinary.
SHARE AND SHOW YOUR PASSION
Share and show our passion, unapologetically and largely unedited – and use this to create a   world for the campers this summer the way it could be.
We live in a culture that in so many ways has become passionless.  Many people are skeptics and cynics and settle for a "live for now" attitude that revolves around thrills and adrenaline highs without substance, depth, and true fulfillment.
Those who can grow up in common culture, go through our education system, achieve all the markers they are told are essential to their ability to succeed, and still retain their sense of wonder, joy, and true enthusiasm for life and learning are truly fortunate.
We keep training.  We keep motivating.  And we can't stop until the summer is completely over.  Maybe not even then….maybe if we do these things for the rest of our lives, we'll create better and stronger leaders in this world.  Let's hope!
We Are Family.
Sam