July 15, 2018
The First Day
By Rachael Speck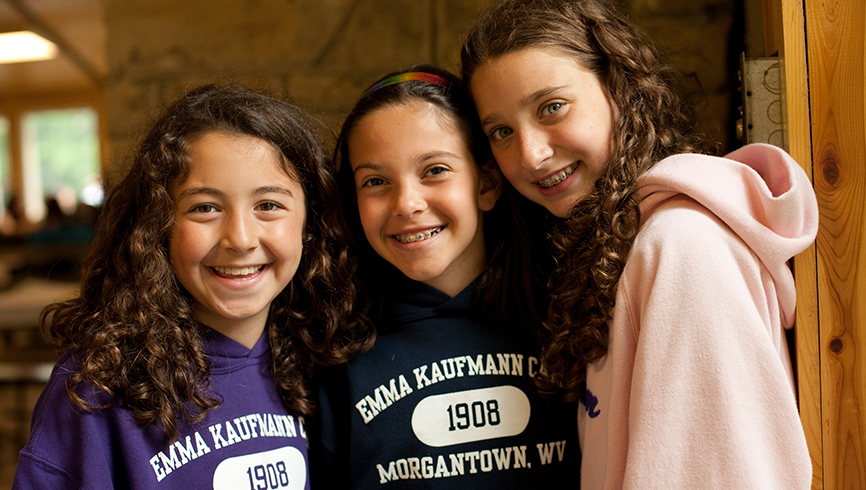 So many emotions on the first day of camp.  Feelings of excitement as campers return to their home away from home and are reunited with friends.  Feelings of nervousness as campers leave their parents for 3 weeks.  Anxiousness as new campers begin their EKC journey.  Feelings of sadness from parents who don't know what they will do without seeing their kids for 3 weeks.  Feelings from the staff of the adrenaline rush of the first day, the pressure to make a good first impression on their campers, and the stress of getting every camper's duffels unpacked and bed made by dinnertime.
For me, those first day feelings are very different than they've been in the past.  All those feelings changed on December 27th, 2017 when my first child, Dylan, was born. Ever since that day, my perspective about camp, its purpose and the work that we do has changed.  Now, as I stood at the South Hills JCC this morning and watched the emotional goodbyes I thought to myself – oh my gosh, this is going to be me someday, leaving my son for 3 weeks.  Not knowing what he is up to every minute of the day.   Entrusting him to other adults.  Entrusting him to young counselors to take care of his every need.
At the same time, I think – oh my gosh, these parents can't even see it now.  The gift they are giving their child by sending them to camp is one of the best decisions they will ever make.    It is the best decision my parents ever made for me.   Camp prepared me for all the ups and downs of real life.  Camp taught me to be a "people person", to be independent from my parents, to be a professional, and most importantly, to be a mom.
Taking care of campers and staff has always been our priority at EKC.  Even before I became a mother, I had worked with children for many years, and as a professional, knew what was good for them and knew how we needed to train our staff to take care of them.  I've always known that in those 7 weeks parents entrust their children to us, it didn't matter if I was a first year counselor or the assistant director, for those 7 weeks we all as camp staff play the role of a parent.
I can't wait to give Dylan the gift of camp someday.  In the meantime, I am SO excited for each and every one of your children for the 3 ½ weeks ahead.  We already had a great first day.  When the buses arrived, everyone gathered at the flagpole to reunite with old friends.  Campers and staff then went to their units to find out what cabin they are in and who their counselors are.   They quickly dropped their stuff in their cabins and then they were off.  Cabins that have new campers walked around and got a tour of camp, and every cabin played a game or icebreaker to help everyone in the cabin get to know each other.
We had chicken nuggets and tator tots for lunch then it was off to start having some real camp fun.  Every camper had a swim test this afternoon and then had free swim and time to hang in the pools.   The rest of the afternoon included cabin activities such as blob and rave, ropes course, sports and arts and crafts.
Everyone had time to unpack and make their beds, and then we had spaghetti and meatballs for dinner!  We spent the evening at our opening night bonfire singing camp songs.  Our Kineret, Halutzim and Teen campers got to learn about all of their Chugim (choice activities) options for the summer.  Each camper signed up for 2 chugim per day that will switch every week.
Tonight each cabin will sign their cabin ketubahs in which they will collectively establish rules for the cabin, write them on a ketubah, and then all sign off on it agreeing to follow those rules.  The ketubah will hang on the door of each cabin all session long.  This ketubah represents the beginning of a new family – the cabin family.  It is the first bonding experience the cabin will have together as they connect over establishing cabin rules.  It is representation of the values we hold near and dear at camp and the first sign of growth in our campers as they learn what it means to live in a community and collectively establish boundaries with their peers.   These are such important skills that will prepare our campers for life's journeys as young adults and later on as adults.  Just a sneak peak of a couple of the many valuable lessons they will learn at camp over the next 3 weeks, and we are only on day 1!
We can't wait to tell you more about all the fun we will have.  Stay tuned until Wednesday for our next blog post!
Rachael Speck