July 29, 2019
Happy Color War!
By Pamela Nestor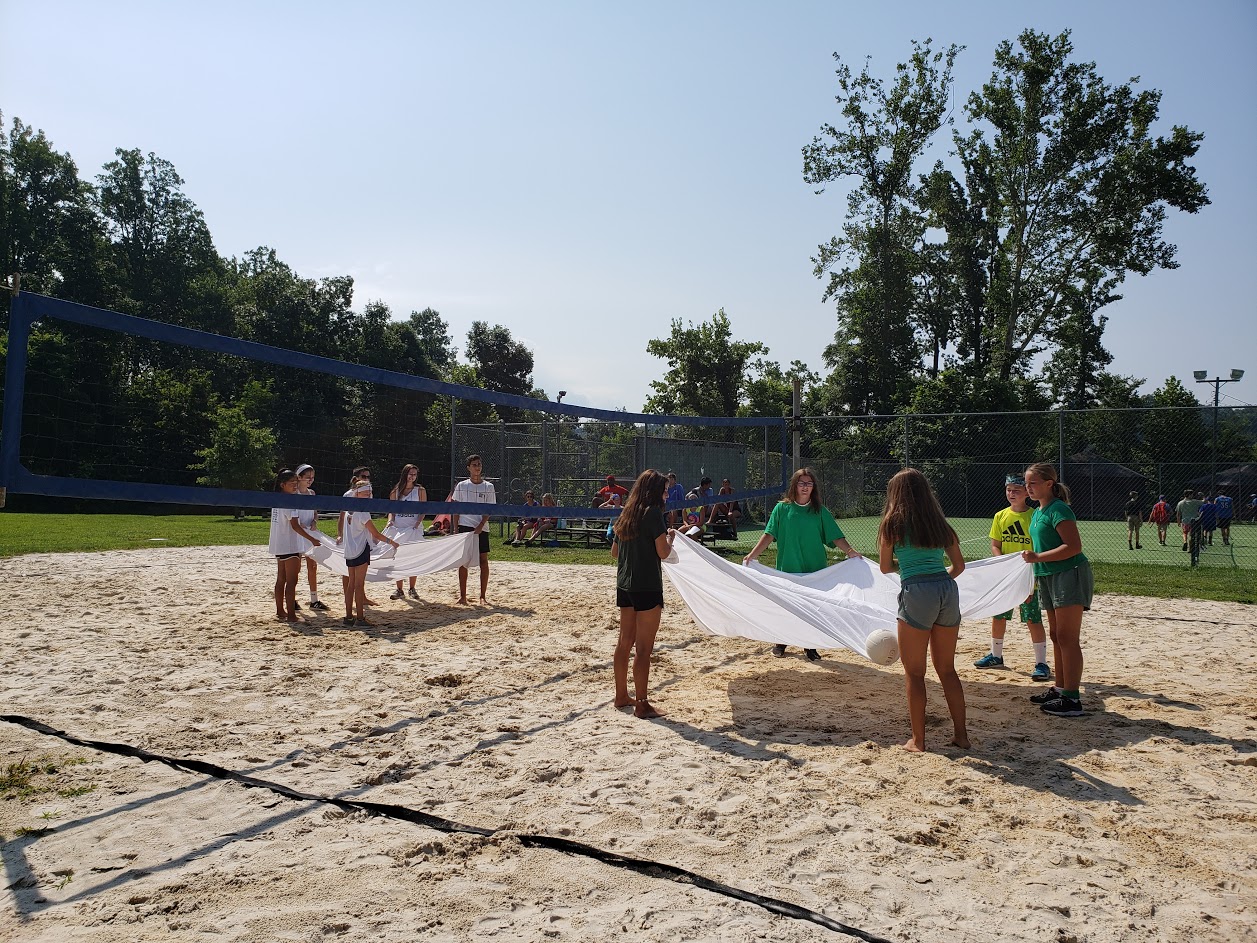 We ate cheesy scrambled eggs, fresh fruit, and cereal with our teams this morning. After breakfast we met with our teams, then performed our first cheer at the basketball courts! We headed to morning competitions all over camp.
Teams competed in basketball, soccer, hockey, golf, sheet volleyball, and swim in the upper ballfields. We played king of the court style, with the winning team being the one who wins the most overall matches!  In main camp, campers competed in trivia, ga-ga ball, outdoor adventure, and cooking!
We had chicken sandwiches, the salad bar, and french fries for silent lunch, a challenge to remain quiet for the whole lunch or risk team points. Then it was time for tugs! We all gathered in the field by the barn. Teams took turns pulling and tugging, fighting for the win! Captains cheered their teams on each time, keeping the energy high! After we had all tugged, we cooled off with free swim.
We ate lasagna, breadsticks, and the salad bar for dinner, then got straight into the Apache Relay! Campers completed activities and passed their team's baton all over camp. Teams had members swim, ride bikes, sort cards, and even canoe at the lake! We finished the relay in the softball field. Teams assembled and worked together to pass colored tennis balls one by one down a line and then dump water on their captains! The White team won!!
After another team meeting, we met at the firepit. Each team performed more songs and cheers as the sun set. Then, ceremoniously, team captains read a poem and lit the EKC sign with torches, marking the first night of Color War. Teens and SITs continued their night with "Into the Dark," a scavenger hunt-puzzle completed in the ballfields! We cannot wait to see how Color War continues tomorrow!