July 16, 2021
Shabbat Shalom from Camp – Our Bereishit Summer!
By Aaron Cantor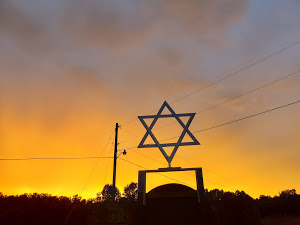 Shabbat Shalom from Camp!
One of my favorite Torah portions is Bereishit (meaning "in the beginning"), this is where God creates the world in six days and then places Adam and Eve in the Garden of Eden. Now, I am well aware of the danger of comparing what we do here at Camp to Gods creation of the world in just six days – thankfully, that's not what I'm going to do. Instead, I want to focus on the importance of the word Bereishit, which is that it is the very first word in the Torah. In the Torah, we get one "beginning" every year and then we read another 53 portions, before Bereishit comes up again. At EKC, I feel fortunate that we get more than one opportunity for our own Bereishit – where we can start anew and have the same sort of experience with a new set of campers. Similar to the one that we just finished up with the campers who were here during Session 1. We are as excited for our new beginning as your campers are to join us.
Another one of our groups is experiencing their own, new beginning, as this morning we sent 46 teens off to Israel for a 3-week trip! I've attached a photo of them, prior to departure from EKC. They'll be landing in Israel tomorrow around 4pm Israeli time, serving as ambassadors of EKC in the land of milk and honey. We run this trip every year for rising 11th graders and there is no better way to experience Israel than with your best friends! All of us at Camp are thrilled that they are getting this experience this summer.
This week as we prepare for the beginning of a new session at Camp, our preparations include another beginning. This Shabbat we start reading the 5th and last book of the Torah, Dvarim, or Deuteronomy.  This week's portion, also called Dvarim, has a so-nice-they-named-it-twice kind of feel. Yet whether focusing on this book or this portion, the remarkable thing about Dvarim, meaning words, is that what's new to us, the reader, isn't necessarily the words, but the voice behind them. The first line of the book begins – "These are the words Moses spoke to all of Israel" – before launching into a condensed retelling of the Israelites journey in the wilderness. Much of this material is already familiar because we've seen it elsewhere in the Torah. What makes Dvarim special is that it revisits earlier stories from another perspective, Moses' perspective, often with expanded and different details.
If you missed our blog post about "Being Jewish at Emma Kaufmann Camp", you can check it out here: Being Jewish at Emma Kaufmann Camp
For now, we're off to enjoy a Kabbalat Shabbat with the entire staff. See you Sunday.
Shabbat Shalom,
Aaron Cantor