August 2, 2019
What a Day!
By Pamela Nestor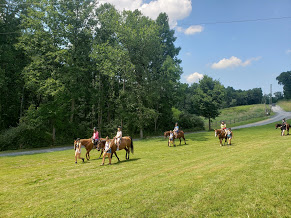 We started off a sunny day with a camp favorite for breakfast: french toast, cereal, and fresh fruit! After eating and enjoying schticks around the flagpole, we headed to activities. A group of Halutzim and Teens headed to the green for golf this morning! Halutzim boys played a rousing game of softball. Sabra girls were in the pool, practicing different strokes during instructional swim! Halutzim girls warmed up in a circle, then began their laps on the other side of the pool. Teen boys spent the morning playing basketball in the sun.
In arts and crafts, Kineret girls made shrinky dinks if colorful food! Sabra girls crouched in the playhouse, playing hide and seek with their cabin. Their cabinmate who was 'it' quickly followed and found them! In the music room, Mason and two Halutzim boys practiced a song for the Shabbat concert coming up. Then it was time for lunch; we ate grilled cheese, tomato soup, salad bar, and noodles. Afterwards, we cooled off with free swim!
In the playhouse during drama, Halutzim girls worked on improv and played several rounds of Snapshot. Two team members were given a phrase to act out through poses. The remaining team member narrated their poses to the audience, adding background information to sway the audience's guess as to what the pose was- similar to charades. Meanwhile, Teen girls painted their plates and bowls in ceramics! First Experience campers enjoyed tubing, flying squirrel on the ropes course, archery and dance!
We enjoyed spaghetti with marinara sauce and meatballs, garlic bread, and salad bar for dinner! The next few days are packed with activities! We have the Shabbat concert, Variety Show, Teen Challenge final night, league championships, and more!