May, 2017
It's Finally Spring!
Summer Is Just Around the Corner!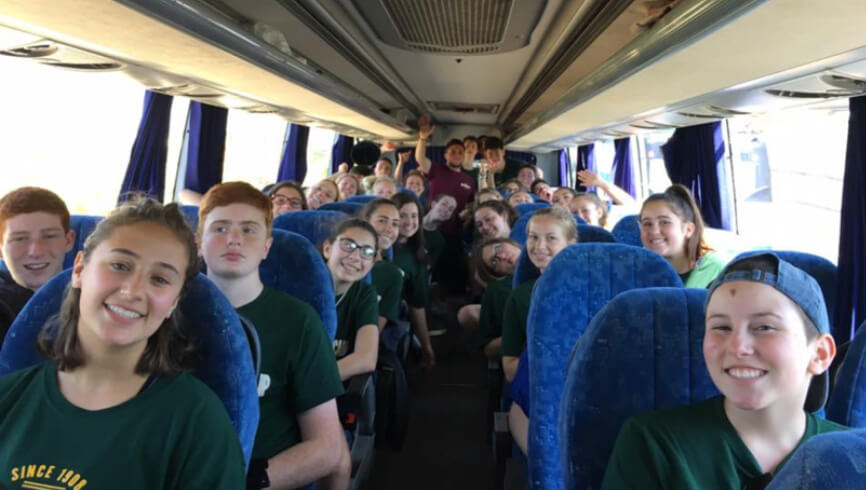 TIKKUN-O-CAMP: SUNDAY, MAY 7th 10:30-4:00pm
Tikkun-o-camp is a day of service at EKC! We are inviting all campers, family members, alumni, facul- ty and any other friends of camp to join us for a day to help make camp beautiful and ready for the summer ahead. Projects include gardening, planting, raking, cleaning up our indoor buildings, painting and much more. Please join us as we all pitch in just a little bit to support these efforts. This day of service, which combines a Jewish value we hold so dear: mitzvot/tikkun olam (intentional good deeds, repairing the world) is a great way to gain service credit for Bar/Bat Mitzvah or public school require- ments. BBQ lunch will be served on the ball fields and every volunteer will get a t-shirt. This event is appropriate for children ages 6 and older. To register or for more information email Rachael Speck at rspeck@jccpgh.org or call 412-697-3539.
CAMPERS COMING TO EKC FROM ISRAEL!
For the fourth year (in conjunction with our continued relationship with Partnership 2Gether and the city of Karmiel-Misgav), which includes the Jewish Federation of Greater Pittsburgh and the Jewish Agency for Israel, we are excited to have 15 new Israeli campers for Session 2 at EKC! In building a "kesher" (connection) component between the communities of Karmiel/Misgav and
Pittsburgh, we will enhance the relationship and bonds between young
people from the partner communities that would otherwise not be possible. Additionally, we will need to host these children from Israel in the two days leading up to the beginning of Session 2 (July 14th and July 15th). If you are
interested in hosting two Israeli campers, please contact Rachael Speck at rspeck@jccpgh.org.
TRI-STATE CAMP CONFERENCE 
Last week, our camp director, Sam Bloom spoke at the Tri-State Camp Conference in Atlantic City, New Jersey. Over 200 participants were in attendance for this session. Sam called the session "Staff-All-In In Just 30 Minutes!" He left participants with 20 concrete ways on how to keep their camp staff learning, growing, motivated and speaking their language every single day. Sam shared his strategy on spending 30 minutes once a week with our staff to engage, motivate and define our camp culture.
These are ways that we motivate and train our staff at weekly meeting which we call "events." Participants walked away learning how to create a culture, build a team and learned how to get their staff to take ownership in their jobs and in their camps. What a great opportunity to showcase the best camp in the country!
MEET OUR STAFF: TOREY JOSOWITZ—2017 SENIOR ATHLETIC SPECIALIST
Torey is a high school senior from Pittsburgh, Pennsylvania. She lives in Squirrel Hill and attends Taylor Allderdice High School. In the fall of 2017, Torey will attend Penn State University as an Accounting major. When she graduates, she wants to start a career in actuarial science doing something with sports and statistics.
This will be Torey's 7th summer at EKC and 2nd summer on staff working as a Senior Athletics Specialist.
Torey says it's the people that keep her coming back to camp. She can't stay away from her campers and her friends. She says she loves being a specialist because she gets to meet all of the campers and have activities with multiple cabins a day. She also loves the challenge of trying to memorize every single camper's name. Her favorite time of the day at camp is Nosh because it is the most exciting snack time she has ever been a part of. "Only at camp do you get to walk into the dining hall during what seems to be just 'snack time' and see everyone standing on the tables dancing and going crazy to loud music" Torey said.
During the school year, Torey works in the Sports & Recreation department at the JCC as a preschool tennis and basketball instructor, Harry B. Davis Basketball Clinic Coach and scorekeeper. She also volunteers with the Friendship Circle and is a member of the J-Serve Steering Committee. When not having to keep up with her busy schedule, Torey enjoys going to the movies and hanging out with her friends.
HOST AN EKC STAFF MEMBER!
Every summer we welcome staff from all over the world who enrich our camp community. We would love to continue to provide a variety of day-off opportunities for those staff members who are far away from home. If you're interested in hosting 2-4 staff members for a 44-hour day off period, please let us know by emailing Stephanie Buzza at sbuzza@jccpgh.org.